So after the run yesterday I was def. ready for a fun Saturday night out on the town. My dancin partner in crime Britt came over and we got ready to go out.
Usual "bathroom mirror shot" No, she did NOT wear that t-shirt out. Its a t-shirt from my highschool that she had on while her shirt was in the dryer. haha
It was definitely a fun night. We ended up going out to our favorite dance spot and danced all night. By the time we got home I was exhausted and I crashed BIG TIME! I got up this morning and went to work, tanned, and now I am home again. WHEW! What a weekend. But I loved every minute of it :)
Random food shots from the last two days:
I tried the honey flavored Oikos yesterday and I liked it better than the vanilla. I still have the plain in my fridge and I have yet to find a blueberry. I think I would like the blueberry the best though, so that a total bummer!
They had Annie's Hunny Bunnies cereal on sale at the grogery store, so I picked it up and thought I would give it a try. I used it to make a new Breakfast this morning:
1 Cup of Hunny Bunnies
6 oz. nonfat vanilla yogurt
Naner
Handfull of Blueberries
Cinnamon!
This combo was SUPER good and nice for a change of pace. Sometimes you just gotta mix it up a little! I really like this cereal too and I recommend it if you havent tried it.
It says right on the box "No icky additives or pesky preservatives"
Lunch:
Made up a wrap for lunch today before work. With all the usual ingredients.
Currently I just finished up the weekly viewing of Running with Heels with my roommate: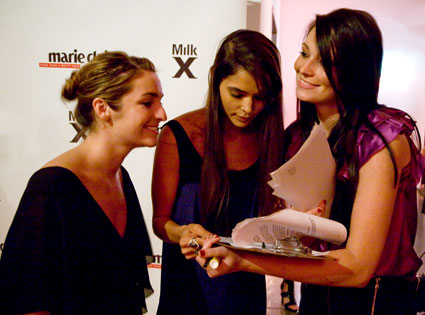 Its a reality show about three girls that are interning for Marie Claire Magazine, and it is one of my new "shows". It comes on Sundays at 8 on Style. WATCH IT!
Ok, so I have something that I just need to rant about. I really really hate to do it, but I just have to let it out. I can not be the only one who thinks this is wrong, so I need input! My roommate who is all ready at a perfectly healthy weight just started on this EXTREME diet and it is really bothering me. It makes me so uncomfortable when she talks about, and she talks about it all the time! Basically it is some sort of pill that makes it possible for her to live off of 500 calories a day!! And she is doing this for three weeks! I just wanna scream at her when she starts talking about it, because it is NOT healthy and I think she is crazy for doing it. I tried to look up info about it online, but I cant find anything that says its dangerous. But surely it is, right?! And I would think that it would only be used on people that were extremely overweight, which is she is not! I have told her before about some of the things that I have gone through, and that it makes me uncomfortable when people practice unhealthy habits. But, she continues to rub this in my face. Am I wrong for being totally annoyed by her right now?!
When I did some googling on whether or not this diet was safe I found an article from The Morning Show that really hit home for me. It talks about weight lose, but I think that it can be related to the feelings of ED as well.
"The only way to let-go of unwanted weight is to let-go of unwanted emotional baggage, let-go of fears and worries, let-go of guilt and shame, let-go of self-hatred and self-loathing, and let-go of the crazy beliefs about food, fat, weight, and dieting, that the "establishment" has fed you all your life. Look in the mirror. Look around you. What you've been told simply isn't an accurate perspective of reality; it simply doesn't work the way they say it does. It isn't what you eat that's making you fat; it's what's eating you. Most people say, "I'll be happy when I lose this extra weight;" but, the truth is, this kind of "happiness" will last only as long as you keep the weight off. Finding true happiness, however, can be the greatest weight-reduction plan ever"




I just found that really inspiring, because I think that its so true, as long as you are happy with yourself and your life, weight will matter less and less. There is SO MUCH more to life than that and a lot of time and energy is wasted by worrying about external things. I am guilty of this myself, and it is something that I am working on everyday.

Ok, enough of that. Its just been on my mind all week! Now Im off to shower and have dinner and hit the hay...im EXHAUSTED!
Hope everyone is revved up for the week! Lots of Love,

<3 Ems.