So the boyfriend and I were talking about the 90s and all the awesome things that came with it. I dont know how many of you bloggers are around the same age to remember some of these things, but my favorite memory from that time was gathering around the T.V. with a big plate of chocolate chip cookies and milk, with my sisters, and watching SNICK. It was a special time every Saturday night when 4 shows played on Nickelodeon. My favorite of them all was Are You Afraid of the Dark. I even just recently bought every episode on DVD!! haha. Another show that I absolutely loved was this one: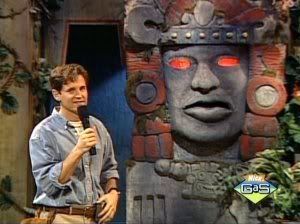 LEGENDS OF THE HIDDEN TEMPLE! I used to want to be on that show so bad, I thought for sure I could totally blow everyone away. As we were talking about these things I was looking some of them up on the internet and I found this little gem that I just think I have to have.
You can actually buy the shirts! Purple Parrots were always my favorite team.
Anyways, enough of that, Im sure alot of you have NO idea what I am even talking about and are probably questioning my sanity right now.
This morning I woke up, had the usual breakfast...which I did not take a picture of, because it would look the same as the other 10 times I have taken a picture of it. Maybe tomorrow morning will be an oatmeal day...we shall see! After breakfast I got ready and ran some errands with my mom, she had to run by the grocery store so I ran in with her and was pleasantly surprised to see they had their raspberries on sale! What else could possible go better with my massive amounts of blueberries?! So of course I had to buy some, and of course I had to dig into them as soon as I got home! :)
YUM!!! I think i may just enjoy raspberries a tiny bit more than blueberries...what would your vote be on that one?!
After I got home I did one of the yoga videos on yogatoday.com. I did one that said it was for core strength and it was intermediate to advanced...WOAH! It was a workout!!! I was pretty proud of myself for attempting all of the poses and we even did some "lifts" and "jumps"! After yoga I made some lunch. Which is beginning to get boring as well. A turkey sandwich with regular hummus, spinach, and salsa on wheat bread...with an apple of the side (this time it was gala) and a few wheat thins.
Some one needs to give some ideas other than sandwiches for lunch...I need something easy, and Im not a very big fan of most soups. AND while your at it give me some creative ideas for dinner as well! haha. I really wanna start branching out and cooking new things, now that I have a little bit more time on my hands.
Anyway, I think its time to hop in the shower and get ready for work! I wont be home until late tonight! I hope everyone is having an amazing day :)
***DINNER UPDATE***
well I got home from work at almost 10 oclock and was starving...i needed something fast (because Nip/Tuck was about to start) and I needed to use up some more of those crazy peas that I had cooked up last night. So I cooked up some noodles, added some pre-cut chicken that my roommate had in the fidge, and some broccoli and grape tomatoes. I mixed it all together with some melted laughing cow swiss cheese...and of course PEAS!!
I usually make a salad to go with my dinner, but tonight I wasnt really feeling alot of veggies, which is really weird because usually I CRAVE veggies. But I had bought some raspberry vinaigrette a while back and decided to try a salad with
FRUIT
instead! It was really good for something different. It is just a mixed bag of lettuce, raspberries, blueberries, and cucumbers, mixed with the raspberry dressing.
Not too shabby
Does anyone else watch Nip/Tuck?! The new season started last week, and I am seriously questioning why I am still watching it! It just keeps getting crazier and crazier...they really are trying their hardest to push the edges of cable television!
Well, Im off to bed now dearies!
HAVE A WONDERFUL NIGHT EVERYONE!